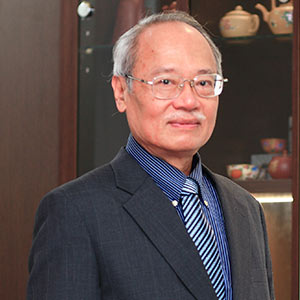 Dr. Wei Lin, Founder and Vice Chairman
Indium Phosphide (InP) and Gallium Arsenide (GaAs) based epitaxial wafers are undoubtedly the most sought after substrate material for modern-day III-V material semiconductors. The growth of epitaxial layers over the substrate offers improvements in the applications of optical communication, data center, industrial highpower laser and consumer products. Pioneering the development of epi wafers is LandMark Optoelectronics Corporation (LMOC), which is one of the leading suppliers of Gallium Arsenide (GaAs) and Indium Phosphide (InP) based epitaxial wafers. The company specializes in the metal-organic chemical vapor deposition (MOCVD) reactors for the epitaxial growth of the III-V compound semiconductor material. "We are consistent in manufacturing epi wafers in-house. In addition to the general epitaxial growth, we also provide services for our customers, for example, in Zn-diffusion (for PD), grating forming and re-growth (for DFB/EML), and selected area growth. These services add great value to our customers in shortening the overall process time, and delivering consistent quality as well as streamlined production flow," states Dr. Wei Lin, the founder and Vice Chairman of LMOC.
LMOC's wafers are of two types – the GaAs wafers, which have a 630 to 1060 nm wavelength, and the InP wafers, which have a wavelength of 1200-2200 nm. One of the most important equipment used for the growth and manufacturing of these wafers are reactors, and LMOC has the capacity of 27 operational reactors at present.
16 of these reactors are Showerhead type, while the rest are Planetary G4 reactors that provide more outputs.
With our expertise, strong R&D, highly stable manufacturing and experienced quality control, we can help clients with a quick turnaround time to allow better efficiency and improved results
With such capabilities, LMOC successfully caters to clients from four specific verticals. The most important market is the optical telecommunications industry, where the wafers are utilized in the 1.3 – 1.5um FP and DFB lasers as well as in PD, MPD, and APD. It has further use in optical transceivers for4G and 5G telecommunication stations and fiber optical transmission FTTX. Secondly, the company focuses on data centers owing to the application of epi wafers in high speed vertical-cavity surface-emitting lasers (VCSELs), 25G DFB laser, and Si-photonics. LMOC' sepi wafers also serve a good fit for 3D sensing applications for face identification in smartphones. The company also offers its epi wafers for industrial laser cutting and medical applications. The other highly significant potential is LiDAR, which is mostly found in auto-driving vehicles.
LMOC has proven expertise in epi quality assurance (EQA) that ensures the verification of the wafer quality at the device level. This additional monitoring and testing of wafers help to shorten the development cycle by providing accurate device performance. The company has invested heavily in quality control and quality measurement equipment to consistently deliver quality wafers. These tools include X-ray diffractometer, concentration profiler, surface scan, AFM, SEM, and Nikon Normaski microscope, among others. "With our certified quality management systems and expertise, we can better control and monitor the quality of wafers we provide to our clients," adds Dr. Wei Lin.
Since its inception in 1997, LMOC has come a long way to become one of the leading manufacturers of epi wafers. Going forward, the company sees immense opportunities in IoT applications after 5G and AI implementation recently. Alongside this, there will be a boom of clients from consumer markets such as smartphones, sensors, wearable device and even medical application manufacturers. To meet the growing demands for epi wafer, LMOC has built a new facility Fab II, nearly a mile away from its current facility, Fab I, located in the Southern Taiwan Science Park in Tainan. "With our expertise, strong R&D, highly stable manufacturing and experienced quality control, we can help clients with a quick turnaround time to allow better efficiency and improved results," concludes Dr. Lin.